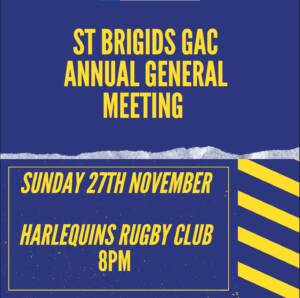 NOTICE OF ANNUAL GENERAL MEETING 2022
St Brigids GAC Belfast will hold the 2022 Annual General Meeting on Sunday 27th November at 8pm. The AGM this year will be held at Harlequins Sports Club.
COMMITTEE NOMINATIONS 
Nominations for positions on the club committee can be made using the attached form and should be sent to the Club Secretary, at secretary.stbrigidsbelfast.antrim@gaa.ie no later than Sunday 13th November 2022 at 9.00 pm.
All fully paid-up club members are encouraged to attend the meeting and assist where possible in driving the club forward during 2023.
AGM Motions Nominations Form 2022
In line with GAA guidelines, the 2023 the Executive Committee will consist of 19 members
By martinmccarney
Sun 6th Nov