A Minute With…Aisling Carson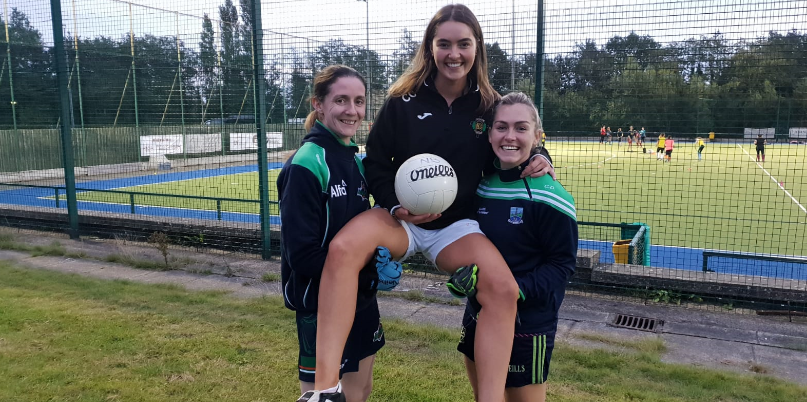 Ahead of the Senior ladies' Intermediate final on Saturday (4pm at Ballymena hai), Aisling Carson took to the 'Minute With' chair. Here's what her teammates had to say about her:
"Next up is Ash ('but, dad') Carson. The speedy and consistent wing half back has had a great year bar her audition for UFC against Moneyglass, where her sweeping right foot earned her a 4 match ban instead of a title match!"
Good luck to the girls on Saturday!!
1. Name? Aisling Carson
2. Age? 21
3. Playing position/role in club? Anywhere my da puts me which is usually further back than I would like
4. Favourite film? Bridesmaids
5. Favourite song? Grace
6. Favourite food/meal? Garlic bread
7. Favourite holiday destination? Ibiza
8. Favourite pitch to play on? Musgrave with the girls
9. Favourite club memory? Ask me again after the dinner dance
10. Worst club memory? Seeing Hannah "I've no iron" McKevitt coming to training for the first time… roll on March 2019
11. Unsung club hero? Soon to be our new bear in the square Anna Dowling, has a right foot like jack <3
12. Best player ever played with? Ciara Durnien- She doesn't know her right from her left, she asks all the stupid questions i'm thinking and she's a tank and fitness inspo to all
13. Best match you were involved in ? First competitive game back after surgery. Never been so nervous in my life and it showed me how far I've come
14. Favourite quote? "There was a spider in my room once so i killed it with my ski" – Anna Finnegan, she did a ski season one time i'm sure she'll tell you all about it.
15. Best advice ever received? Any of Enya Boyce's numerous life mottos, has a new one every day. One to note would be "keep on drinking and you'll never be hungover" EB 2018
16. What other club do you like to see do well other than St Brigid's? St. John's when the bros are lined out and whoever they are playing when they're not 🙂
17. Favourite player growing up? Eoin Cadogan and Patrick McBreaty for obvious reasons
18. Best trainer on the team? Whonita Hagan wearing her das socks. Puts in the work, always doing extra laps, and always up for a pint or boojum after. (or before)
19. Worst trainer on the team? Colleen and Claire- they think they're at Aussie rules training instead, making sure I never go home without a few bumps and bruises
20. Up and coming player to watch? With the talented minors on the senior panel this year its impossible to chose just one
21. Favourite thing about the GAA? The road trips
22. Where would you like to see St Brigid's in ten years time? Competing for a senior title, our own club house for an after game pint, and hurling/camogie being as popular as football at all ages. Floodlights also wouldn't go a miss after we trained last thursday until we couldn't see 🙂