A Minute With…Ashling Henderson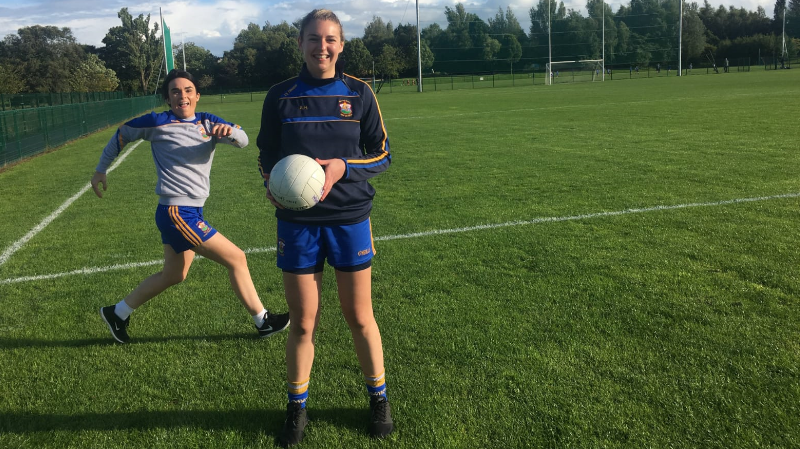 The Senior ladies had a rip-roaring Championship semi-final against Moneyglass on Sunday, prevailing by a couple of points in an enthralling spectacle to send themselves into the Intermediate county final. So it's fitting that the next 'A Minute With' comes from one of the victorious players, Ashling Henderson….
1. Name: Ashling Henderson
2. Age: 26
3. Playing position/role in club: Wing Half Back/biggest fouler "sorry I'm just tall" is my excuse to the ref ha
4. Favourite film: Law abiding citizen/the Parent Trap (a childhood love which I'll always love)
5. Favourite song: "Jimmy's winning matches" what a time for Donegal!
6. Favourite food/meal: Pizza and ice cream, a fine GAA diet!
7. Favourite holiday destination? Italy, where pizza and ice cream are acceptable for breakfast, lunch and dinner!
8. Favourite pitch to play on? Our own Musgrave Park, you can feel the win before the ball is thrown in.
9. Favourite club memory? Winning intermediate championship 3 years ago with St Brigid's and the session in the Kremlin after! Another memorable day was this year's training bootcamp on the beach and running into the ocean with everyone after #teambonding
10. Worst club memory? Tearing the dreaded ACL during a game…..
11. Unsung club hero? Mel Carson for his coaching and patience.
12. Best player played with? Mairead Walsh, when she had two intact Achilles heels! From a young age she always stood out in every sport football, camogie, soccer you name it, a natural talent!
13. Best match you were involved in? Playing St Paul's in a league game last year and thinking we had them after the first half, there was some belief during the half time talk….then the second half happened…. (Some day we will get them)
14. Favourite quote: R.I.C.E (Rest. Ice. Compression. Elevation) quoted by Google many times this year whilst looking up injuries.
15. Best advice ever received: "It's rare that you play your A game so make sure your B game is as good" and " if your first touch is shite, make sure you bloody well make up for it with your second" – Coach Mel
16. What other club do you like to see do well other than St Brigid's: Buncrana, the home club!
17. Favourite player growing up: Karl Lacey, skillful, speedy and easy on the eye!
18. Best trainer on the team: Honestly too many to mention them all but Ciara Durien and Aisling Carson for their work rate they never give up! Colleen Quinn for her motivation and leadership. Ciara Moane and Claire Donnelly for their wise words of wisdom and experience. I could name more but I will stop. But credit to our injured players who sometimes have a better attendance record than others!
19. Worst trainer on the team: Every single one of us when we're told to get down and do press ups!
20. Up and coming player to watch? Maeve Blaney and Sorcha McGarvey contributing massively to the senior team, both have so much potential for the years ahead!
21. Favourite thing about the GAA? The sunny summer evenings training. Winning and loosing as a team! Friendships and the community spirit all over the world. And finally the WhatsApp group banter!
22. Where would you like to see St Brigid's in ten years time? Competing at the top level with our current underage players making there way up and hopefully some of us old biddies still at it!