A Minute With….Anna Finnegan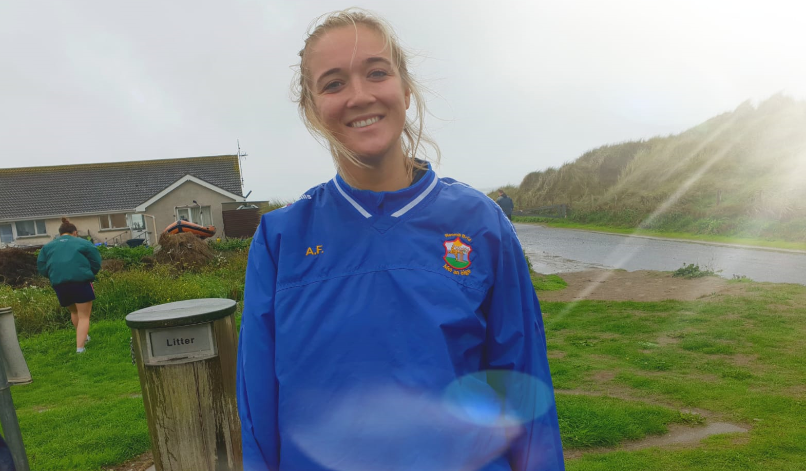 In the spotlight today, it's someone who has won All-Ireland titles with her county at Croke Park and county titles with St Brigid's. Ahead of the Senior ladies' Championship semi-final this Sunday at Musgrave (2PM), we have Anna Finnegan up on today's 'A Minute With'…
1. Name: Anna Finnegan
2. Age: 25
3. Playing position/role in club: Centre Half forward
4. Favourite film: The Sound Of Music…can't beat the Von Trapp Family
5. Favourite song: The Winner Takes It All – ABBA
6. Favourite food/meal: Can you really beat a cup of tea and peanut butter on toast?
7. Favourite holiday destination? French Alps…Have l mentioned l did a ski season once?
8. Favourite pitch to play on? Musgrave Park or Casement Park, both for obvious reasons.
9. Favourite club memory? Way too many to name. Toss up between three: Winning the championship in 2012, Katie McMullan running the full length of the pitch from goals to score a point against Moneyglass and taking part in Strictly Come Dancing. Hopefully going to add winning the championship this year with the girls and Mel to this list.
10. Worst club memory? Losing at Strictly Come Dancing…still not over it to be honest.
11. Unsung club hero? Noel McGuickan and Peter Prenter for being the driving force behind starting a ladies team all those years ago! Also l have to give a shout out to Ruairi O'Neill…sorry about that time we all went to Magaluf and lost the championship. Oh and of course Mel this year!
12. Best player played with? Ciara Hegarty (Donegal Senior Ladies)
13. Best match you were involved in? Winning an All Ireland with Antrim in Croke Park in 2012
14. Favourite quote: "Be who you are and say what you feel, because those who mind don't matter, and those who matter don't mind." – Bernard M. Baruch
15. Best advice ever received: "Be good and if you can't be good, don't get caught" – My Mum
16. What other club do you like to see do well other than St Brigid's: NUIG/UCD/Fog City Harps SF – all clubs I got to play with.
17. Favourite player growing up: My Dad…even if he did play for St Paul's, he's a biddies man now!
18. Best trainer on the team: Aisling Henderson, always gives 100%.
19. Worst trainer on the team: Ash Carson never not on a holiday, never not having ones on ones with her Dad, never not taking a water break.
20. Up and coming player to watch? Sorcha McGarvey, only 17 but you can trust her on the ball at all times and always steps up when needed.
21. Favourite thing about the GAA? The community ethos and the ability to go anywhere in the world and still have a place to feel welcome, either as a player or a supporter.
22. Where would you like to see St Brigid's in ten years time? Challenging for a Ladies Senior title, growing our grassroots and expanding our facilities…even a score board would be handy!