Naomh Brid welcomes Antrim U16 Ladies v Tyrone at Musgrave on April 1st @ 2pm
St Brigid's are delighted to welcome our U16 Antrim County Squad to our newly opened facilities on April 1st at Musgrave as they take on Tyrone in a match that will go a long way in determining the outcome of Group 2 in this year's Ulster League.
Both teams are progressing well with 'The Saffrons' having beaten Fermanagh comprehensively in the opening round and Tyrone posting a win in a high tempo, high scoring match against Armagh last weekend.
It would be great if we could get club members and team mates out to support the girls as they strive to push Antrim towards some long overdue silverware.
Throw in is at 2pm.
Over the next few weeks, we will profile some of St Brigid's rising stars contributing to the Antrim ranks this year at Junior level through Minors and offer an opportunity to find out a little more about what makes them tick?
We start off with U16 stalwart Rebecca Doyle who has been involved with the county setup since her debut with the U14s three years ago.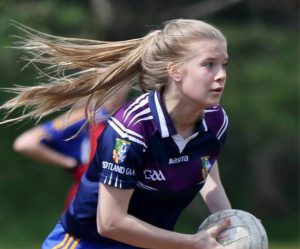 Player Profile
Name
Rebecca Doyle
Position
Half Forward
Other Sports
Netball
Skiing 
Most Memorable Match
Group decider against Carryduff at Feile 2014. We had been written off by clear group favourites Carryduff as no more than a training match, but we set about them with such ferocity that they didn't know what had hit them! I've never seen a St Brigid's team work harder or fight stronger and the Carryduff subs who had been sunbathing because they thought it would be a walkover were suddenly being yelled at by their coach to get warmed up. The Carryduff squad was full of county players but St Brigid's matched them everywhere on the park, and although we ended up losing the game by a couple of points, the Carryduff supporters gave us a 'guard of honour' as we came off the park! It was unbelievable! 
Favourite Player in LGFA
Monaghan Half Forward and All Star Caoimhe Mohan. She's only slight but her pace and strength are unbelievable and she's impossible to take your eyes off when she goes at a defence!
Most Inspirational Player in Club or County that you have played alongside?
Emma Ferran. She is such a great all round player, strong, fit, hard to dispossess and always cool and reliable under pressure. She's also a great mate! I tell the younger players to watch how she plays!
 Favourite meal?
My Dad's Spaghetti with Home made Tomato Sauce!
 Favourite Music Artist and Movie Star?
Ed Sheeran. I just think he puts his heart into every song he writes.
Marlon Brando. I love his movies!
One to watch at the club for the future?
Theresa Mellon. What this girl can do with both feet is amazing! Even at Under 12 she was playing with the 16s and was never out of place. She is fast and fearless!
Tell us something about yourself that would surprise us?
I once danced at The Opera House in Sleeping Beauty as part of The English Youth Ballet.
Advice for younger players?
Study the great players in the game like Caoimhe Mohan in Monaghan and Cora Staunton in Mayo and learn how they set up. Make time to train, rest and eat sensibly.
What's your footballing ambition?
At club level, hopefully to be part of St Brigid's first ever Minor's team next year and to keep developing as a county player and supporting the brilliant talent that Antrim is producing just now.