St Brigids are holding three Camps this year for the junior section of the club. (Current P1s to to Current Year 8s)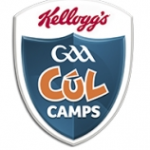 The all will be held at our grounds at Belfast Harlequins.
Kelloggs Cúl Camp (Football/Hurling) Camp camp runs from 3rd July to 7th July
First multi code Camp runs from 7th August to 11th August
Second multi code Camp runs from 14th August to 18th August
As with last year all applications need to be in advance of camps
There will be a maximum of 120 places this years camps on a, first come first serve, basis. Fully paid up members will have first call.
Closing dates for applications will be as follows for the July Camp it will be the 22nd June, and for the August Camps it will be 31st July.
No applications will be accepted after these dates. This is to ensure we have correct number and quality of coaches. This rule will be strictly enforced.
There will be a St Brigids item of clothing for all children attending the St Brigds Camps, and a Cúl Camp Kit and Rucksack for those attending the Cul Camp.
Please pay close attention to shirt sizes as items cannot be exchanged.

Completed application forms with cheque made payable to St Brigids GAC can be sent to: Cúl Camp Co-ordinator, 31 Cleaver Park, Belfast, BT9 5HY