A Minute With…Paddy Fox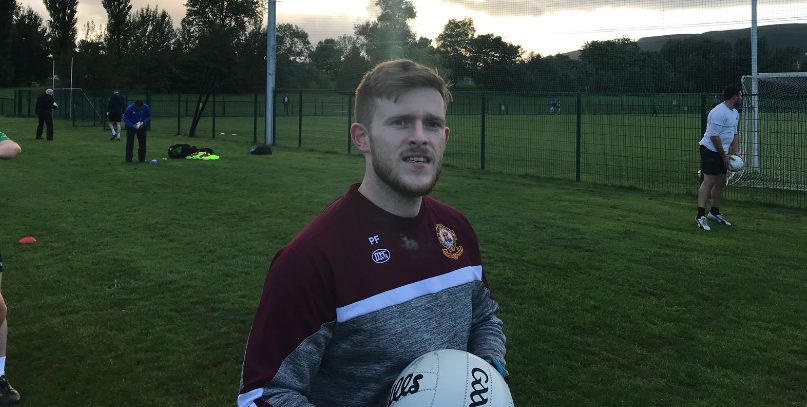 Formerly a promising Minor footballer with Tyrone who figured out early on that that title had a lot more yarn-spinning potential than the title of 'Tyrone senior panelist' – and promptly moved abroad – Paddy Fox is the newest member of the St Brigid's Senior panel (and one of notably few 'foreigners' in the squad). He took the time to answer our quickfire questions in today's second 'A Minute With'…
1. Name? Paddy Fox
2. Age? 26
3. Playing position/role in club? anywhere in the forward line
4. Favourite film? Law abiding citizen
5. Favourite song? Anything fleetwood mac related
6. Favourite food/meal? I enjoy a good chinese, hard to find a good one in belfast! (Edit: Try 'Welcome' in Stranmillis, Paddy. Does a good chicken ball)
7. Favourite holiday destination? The coast of costa del Donegal
8. Favourite pitch to play on? My home club The Moy is great on its day!
9. Favourite club memory? Getting my first run outs for the seniors, we haven't lost a game since I joined (I've not played the majority of this, I believe it's the morale haha)
10. Worst club memory? Seeing a 50 year old coming on in a stiffs game against us and he was lethal.
11. Unsung club hero? Anyone who puts the hours in, Andy, Eunan etc are great assets to the senior squad!
12. Best player played with? Sean/Colm Cavanagh
13. Best match you were involved in? Reserve Game against Rasharkin, I swung 5 from play and didnt get punched – win win
14. Favourite quote? 'paddy fox, you solo and bounce like an under 12 ffs' Eunan Conway, I've been perfecting the technique ever since that day in Madden.
15. Best advice ever received? 'football doesnt last forever, so enjoy it'
16. What other club do you like to see do well other than St Brigid's? My two former clubs The Moy Tir Na Nog and St Brendan's in Manchester and Liverpool Hope uni.
17. Favourite player growing up? Peter Canavan, probably the best player I've seen in my lifetime.
18. Best trainer on the team? The young lads like James Smith and Pat Finnegan etc rarely miss sessions!
19. Worst trainer on the team? I think most of the senior lads are fairly consistent!
20. Up and coming player to watch? Pat Fin, James Smith, John Toner, John Blaney are all still young in their senior careers and look like solid senior players already!
21. Favourite thing about the GAA? The friendships that come along with it!
22. Where would you like to see St Brigid's in ten years time? From the small period of time I've been with the club iI can see that there is a total influx of young talent that is already playing senior football, if this continues the Biddies will be a solid Division 1 team in the very near future!