St Brigid's Watching Shadows As Battle With Davitts Ends In…A Draw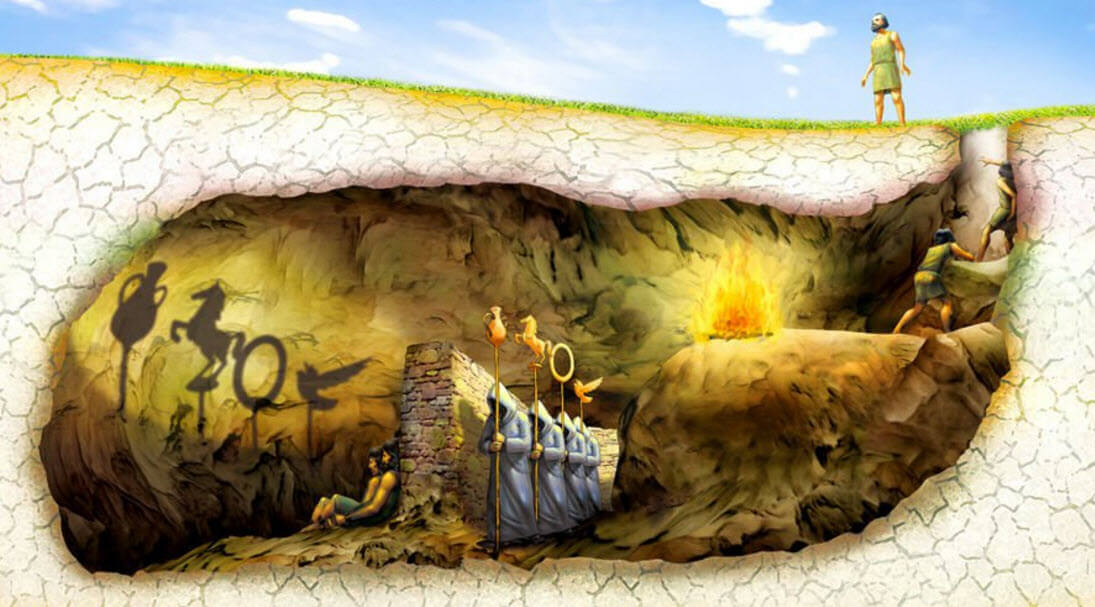 The Allegory of the Cave by Plato is a tale that any philosophers among us will be familiar with.
In the story, Plato presents a number of people imprisoned in a cave, facing permanently towards a wall upon which shadows dance, projected by objects moving past a fire situated behind the people trapped in the cave. Puppeteers move models of animals, ornaments and other items past the fire and so shape the shadows that the prisoners see. Eventually, the prisoners might escape, says Plato, and witness the reality of their situation – and though at first resistant to the new reality that they see, eventually they will come to understand that what they had initially understood as reality was in fact not reality at all.
The lesson here, dear readers, is that as humble human beings we should never assume that we understand what reality is without first conducting deep introspection and outward research. Let us remember that only a relatively short time ago in human history our ancestors were convinced that the Earth was flat (and indeed there remain some similarly-minded individuals among us today). Like the individuals in Plato's cave, how do we know that everything we see is not some elaborate projection from some higher power? How do we know the reality of objects, animals, nature…and Gaelic football results?
On Sunday 6th May, St Brigid's' Senior men took on Davitts at Musgrave Park in a crunch clash that took on another layer of importance for the home side after two recent losses to Gort na Mona and St Paul's. It was also the first game of the season for St Brigid's at Musgrave Park and so there was added incentive for them to put in a good performance – and the return of the Messiah  Enda Clarke to the St Brigid's starting line-up was a huge boost.
Nevertheless, Davitts got off to the better start, hitting some outstanding scores in the opening stages of the game as St Brigid's struggled to get into their swing. Fresh from his Irish Premiership victory with Crusaders, Sean O'Neill was excellent in midfield for Davitts, his fine striking of the ball and vision helping set up and deliver scores for his side. Eventually, however, St Brigid's' James Smith got annoyed with his team playing so abysmally and so in order to let off some steam he got on the ball, laid it off, went past a defender and smashed the ball into the net with his left foot. From there, St Brigid's took the upper hand and ended the half strongly, taking some good scores – including an outstanding long-range point from Peter Webb – to leave it 1-6 to 1-5 in favour of Davitts at half-time.
The second half was played at a frantic pace, with both sets of players displaying huge heart and bravery throughout. Fifty-fifty balls were hotly-contested and occasionally tempers were frayed. Davitts looked the favourites for victory when they cut St Brigid's open for a goal, putting them five in front with twenty minutes to go, but a goalkeeping error and a neat lob from home skipper Ruairi O'Neill (reminiscent of Mikey Sheehy's infamous chip of Paddy Cullen in the 1978 All-Ireland final) brought St Brigid's back into the game; and shortly afterwards a wonderstrike from Smith with his left peg (Ronan who?) brought the sides on level terms. As Davitts moved one ahead, O'Neill got on the end of a slick team move from St Brigid's, netting with ruthless precision to leave them two in front before Clarke channelled his inner Ciaran McDonald to add another. At this point, Davitts' heads could easily have dropped. But the away side deserve huge credit for their spirit and desire and managed to fashion a goal that seemed to deflect off a St Brigid's defender and into the net.
As both sets of supporters began to run out of fingernails to chew, South Belfast's one and only CrossFit celebrity Jack Dowling swung his big right boot at the ball and managed to direct it between the posts, shortly followed by Webb from a free. With that, the final whistle blew, and St Brigid's players and supporters celebrated what they had down as a victory…only to discover that all the while they had been watching shadows dancing on the wall.
Final score: St Brigid's 3-11 Davitts 3-11