Gaelfast project to promote Gaelic games across Belfast
Belfast schools is to welcome a great initiative with 1m in funding for a programme called "Gaelfast".
Gaelfast is a five-year project where expert coaches are placed in schools across Belfast in order to promote the ethos of the GAA, see link below for full story.
St. Brigids had many Club members involved in setting up the initiative to bring it to fruition. There were even some younger Club members showcasing their hurling/camogie skills outside the City Hall. So well done everyone involved!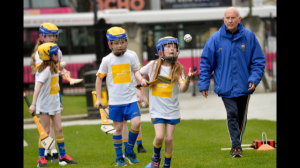 https://www.belfastlive.co.uk/sport/gaa/gaa-unveils-1m-plans-promote-14527684