Reserve Men Defeat Aghagallon In Champ First Round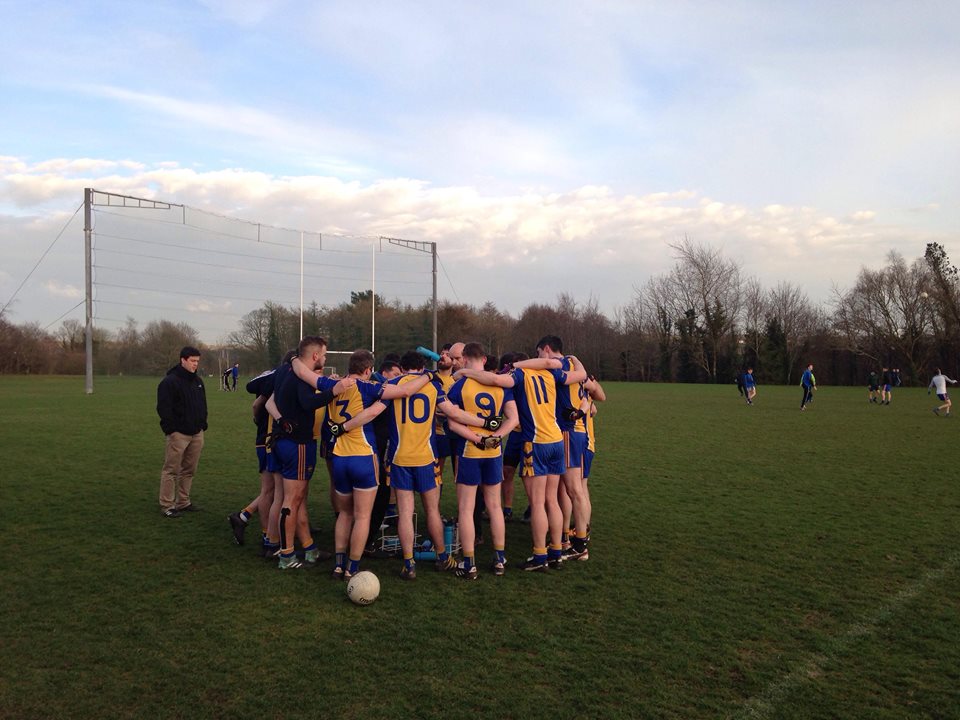 Monday 09/04/18
Antrim Reserve 'B' Championship, First Round: St Brigid's v Aghagallon
"You'd think it was Championship or something," ruefully remarked an individual who may or may not have been involved in the St Brigid's Reserves' management team as he surveyed the healthy horde of men presenting themselves for selection at The Dub before the first round of their side's Reserve 'B' Championship game with St Mary's, Aghagallon. Long-standing muscle injuries mysteriously cleared up, partners successfully negotiated with, and the cobwebbed shooting boots apparently found down the back of the boot room, behind the golf clubs (having lain there since last year's Championship), it was a brave and merry group of Biddies that pulled on (squeezed into) the blue and gold jersey for battle.
St Brigid's manager Damien Judge outlined his tactical masterplan – essentially, run like cheetahs, leap like salmon and raise your arm when the black dots appear – and named a strong side to begin the game, with a star-studded bench including Shane Boyle, who confirmed reports that he was indeed "studying" on Friday evening when absent for our Senior challenge match against the same opposition.
St Brigid's started very strong, with excellent scores from Niall McDonald and Chris McCann and a stunning long-range effort from Leonard before a brilliant team move from St Brigid's resulted in a well-taken point from Chris Quinn. Aghagallon were finding it difficult to put together effective attacking plays, and when St Brigid's were awarded a penalty it looked like the game could already be slipping away from them. Leonard duly dispatched the penalty into the top corner, shortly followed by another score from the very impressive McCann. St Mary's then gave a brief glimpse of their quality with a couple of well-worked moves ending in fine scores just before the break. At half-time, it was 1-9 to 0-4 to St Brigid's.
The second half saw St Brigid's move through the gears once more, while Aghagallon continued to work hard to try and stay in the game. Despite their valiant efforts, however, St Brigid's' quality off the bench really told in the second half as the likes of Peter Henvey and Oran Boyle brought fresh legs and impetus to both attack and defence. Tomas Corey and Joey Peeps were excellent in defence alongside former Antrim minor and Aquinas star Paul Finnegan and past Great White Hopes Andy Brennan and Tim McCrudden. Gradually, with McDonald goaling and McCann and his highly effective arse continuing to cause Aghagallon problems, St Brigid's eased ahead and secured the win.
Final Score: St Brigid's 2-18 St Mary's, Aghagallon 0-8