Club Gear New Order Opportunity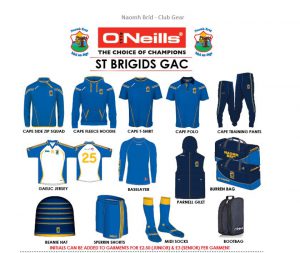 We have been asked by some who missed the last order deadline to look at placing another order.
Please see below the order sheet just in case you wish to refresh your wardrobe and missed the opportunity last time.
You will see that two items ( rain jacket and windcheater)  have been removed because they are out of stock and have been replaced by – Fleece Hoodie and Hooded Gilet.
Usual arrangements – forward a completed order form (see below) and payment to either Muiris or Anthony by 30 November 2016.
It would expected delivery probably around end of January  2017.